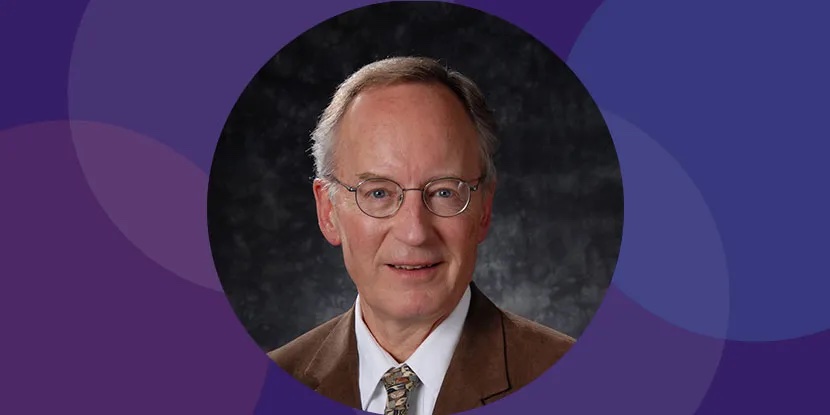 The American Academy of Ophthalmology is pleased to recognize Dr. Larry Schwab with the 2020 International Blindness Prevention Award, which honors an individual who has made significant contributions to reducing blindness and/or restoring sight worldwide.
Dr. Schwab was selected for the award by the Global Education and Outreach Committee for his global impact in three areas: 1) long-term collaboration, networking and consulting in policy, planning and implementing blindness prevention programs; 2) direct care, teaching and training clinical officers, medical assistants and nurses in the developing world, particularly Africa and Asia, and 3) speaking, advocating and supporting blindness prevention programs at academic institutions, medical societies, communities and with international health officials throughout his career.
Dr. Schwab's career in caring for underserved populations began as soon as he completed his medical training at West Virginia University. Following his internship at New Orleans' Charity Hospital, he became a captain in the US Army Medical Corps and went to Vietnam, where he served first as a general medical officer in a surgical hospital. He then spent six months in combat as a battalion surgeon, and was awarded two bronze stars, one for meritorious service and for valor for heroism in ground combat operations as a non-combatant.
In 1972, after completing a basic science course in ophthalmology at the Harvard School of Medicine and a residency in ophthalmology at the West Virginia University Medical Center, Dr. Schwab began his long association with the International Eye Foundation (IEF). He was assigned to Ethiopia as a project ophthalmologist on the foundation's Blindness Prevention Project headquartered in Addis Ababa. Since then, he has dedicated much of his efforts to IEF projects in Kenya, Malawi and Zimbabwe, accompanied by his wife, Martha, and three children, Eric, Mark and Angela.
Dr. Schwab worked with each country's Ministry of Health on bilateral projects to train and supervise the work of medical assistants to provide needed health services. He noted that in many developing countries where physicians are in short supply, training medical assistants is a crucial aspect of health care delivery. He saw a need for a textbook to accompany the training and wrote Eye Care in Developing Nations on blindness prevention for medical assistants in developing countries.
He has been the recipient of numerous awards and honors, including the Academy's Outstanding Humanitarian Service Award in 1995.
Dr. Schwab continues to teach, collaborate, network and consult with NGOs, health care organizations and teaching institutions working in the prevention of blindness programs. He also works with the International Campaign to Ban Landmines and Cluster Munitions, a project that he has been part of since 1997. Dr. Schwab is known for his gestures of kindness, friendship, teaching, sharing, mentoring, and personal commitment to furthering the reduction of blindness in our world for over half a century.