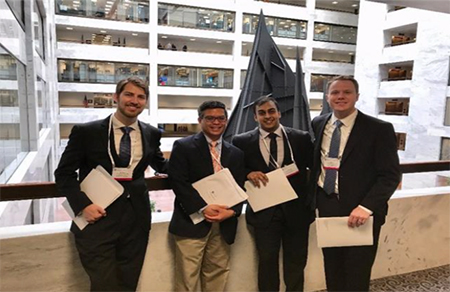 Edgar C. Gamponia, MD, is the councilor for the West Virginia Academy of Eye Physicians and Surgeons. The council serves as an advisory board to the Board of Trustees and provides recommendations for board action based on membership concerns. This article is part of a quarterly series of personal stories from councilors about why they contribute to OPHTHPAC® and the Surgical Scope Fund.
Councilor Edward C. Gamponia, MD, (second to left) at Congressional Advocacy Day with Advocacy Ambassador Program participants Joshua S. Atkinson, MD, Sumeet K. Gupta, MD, and Jesse Himebaugh, MD.
We are truly blessed as ophthalmologists. What we do day in and day out is absolutely miraculous and extremely gratifying. And like all ophthalmology practices, providing the highest quality eye care to our patients and their communities is perhaps our most important mission.
Early in my practice nearly 20 years ago, I realized the importance of giving to the Academy's OPHTHPAC fund and the Surgical Scope Fund. The issues that they assist with and support are critically instrumental in allowing us to continue delivering high quality care. Access to compounded medications, working with Medicare fee schedules, assisting with MIPS/MACRA and maintaining patient safety are just a few examples. Giving allows us to maintain a strong voice, to keep access to our government representatives and to help protect our patients. It's an investment for our profession, our practices and our patients.
Edgar C. Gamponia, MD
Councilor, West Virginia Academy of Eye Physicians and Surgeons