Details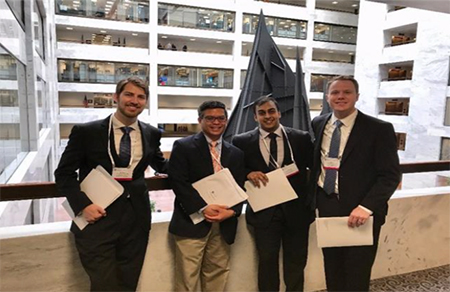 Edgar C. Gamponia, MD, is the councilor for the West Virginia Academy of Eye Physicians and Surgeons. The council serves as an advisory board to the Board of Trustees and provides recommendations for board action based on membership concerns. This article is part of a quarterly series of personal stories from councilors about why they contribute to OPHTHPAC® and the Surgical Scope Fund.
Councilor Edward C. Gamponia, MD, (second to left) at Congressional Advocacy Day with Advocacy Ambassador Program participants Joshua S. Atkinson, MD, Sumeet K. Gupta, MD, and Jesse Himebaugh, MD.
We are truly blessed as ophthalmologists. What we do day in and day out is absolutely miraculous and extremely gratifying. And like all ophthalmology practices, providing the highest quality eye care to our patients and their communities is perhaps our most important mission.
Early in my practice nearly 20 years ago, I realized the importance of giving to the Academy's OPHTHPAC fund and the Surgical Scope Fund. The issues that they assist with and support are critically instrumental in allowing us to continue delivering high quality care. Access to compounded medications, working with Medicare fee schedules, assisting with MIPS/MACRA and maintaining patient safety are just a few examples. Giving allows us to maintain a strong voice, to keep access to our government representatives and to help protect our patients. It's an investment for our profession, our practices and our patients.
Edgar C. Gamponia, MD
Councilor, West Virginia Academy of Eye Physicians and Surgeons
Details
WVAEPS Strongly Supports Early Eye Drop Refill Legislation
Older patients face new challenges in protecting and saving their eye sight, challenges the physicians and surgeons of the WVAEPS are committed to helping them overcome.
It is easy to swallow a pill, but getting an eye drop in an eye every time, especially when a person has arthritis or is visually impaired, can be difficult. Often a patient will accidentally deplete his supply of medicine before the next scheduled refill.
Generic medications have to meet certain standards for the concentration of the drug. Drop size is not controlled, and often times the drops are too big; the patient runs out of drops too soon. Going without treatment for 9 to 10 days leads to loss of vision. This is unacceptable.
Details
"From 2010 to 2050, the number of Americans with diabetic retinopathy is expected to nearly double, from 7.7 million to 14.6 million." National Eye Institute
People with diabetes are at greater risk than most of developing eye diseases such as glaucoma, cataracts, and diabetic retinopathy (the leading cause of blindness in American adults). Nearly half of type 1 and type 2 diabetics already have diabetic retinopathy in some stage, sometimes with no evident symptoms. As early detection and treatment of eye disease is often key to preventing vision loss, experts strongly recommend that both type 1 and type 2 diabetics get a comprehensive, dilated eye exam at least once a year.
But in a state where more than half the population resides in rural areas, many West Virginians find that easy access to this routine eye care is not always a reality.
The physicians and surgeons of the WVAEPS recognize the huge obstacle this presents for their patients and recommend telemedicine as a viable opportunity to increase patient access and diagnosis.