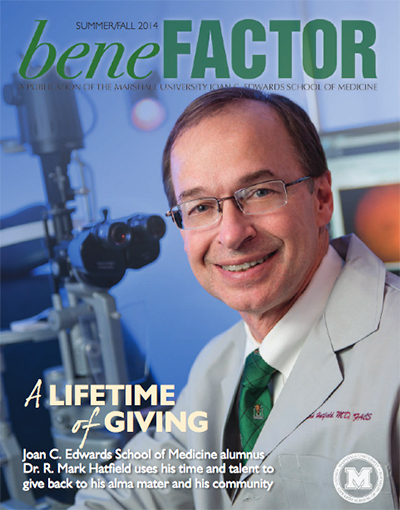 As an organization, we are always proud of our members when they are recognized for the noble work that they do in this profession. So of course, we were delighted when Dr. Mark Hatfield was appointed as Chair for the Ophthalmology department of Marshall University School of Medicine. The following link give insight into the man and his beliefs. He is truly someone who tries to "do the right thing!"

Dr. and Mrs. R. Mark Hatfield share their time, talent and resources with the schools and communities that have shaped their lives.

Mark Hatfield, M.D., is the great-great-grandson of Devil Anse Hatfield, the infamous leader of the Hatfield clan during the legendary Hatfield-McCoy feud of the 1800s. He is also a renowned ophthalmologist, a noted educator and a loyal supporter of the Marshall University Joan C. Edwards School of Medicine – but if there's one thing Dr. Hatfield learned growing up in the Hatfield family, it's never to forget his Appalachian roots. "There are a lot of wonderful aspects of our mountain culture," he said. "Our ancestors took care of strangers who were passing through. Everyone was welcome to their home and their food. Giving was part of the culture back then, and it's still a part of our heritage today. I learned as a young boy that it's better to give than to receive and that it's my responsibility to serve my family, my friends and those I don't know."

It is with those childhood lessons as his guide that Hatfield embarked on a lifetime of generosity that has pervaded his professional career, his scholastic pursuits and his personal philosophy.
Read the full article in the Benefactor:

http://jcesom.marshall.edu/media/52675/benefactor-2014-summerfall.pdf