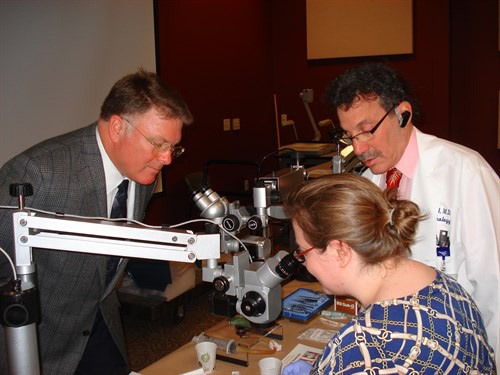 Considered the "expert" of eye healthcare, an ophthalmologist is a physician or surgeon who is dedicated to comprehensive care of the eyes and visual system.
A medical doctor


Trained to recognize all complications and diseases affecting vision


Qualified to perform eye surgery and prescribe all medications


Educated in the treatment of all eye issues and injuries, including the severe and complex


Performs eye exams/prescribes and fits eye glasses and contacts


Completed 4 years of undergrad; 4 years of medical school; 1-year internship; additional 3 years (minimum) of medical and surgical training specific to the visual system


May have received additional training in a subspecialty such as glaucoma, retina, cornea, pediatrics, etc.



Many involved in research of eye disease causes and cure





---
What is an optometrist?
As a member of the eye care professional team, an optometrist concentrates primarily on vision monitoring and correction.
Licensed to perform eye exams and vision tests

Prescribes and fits eye glasses and contact lenses

Qualified to detect and treat a limited number of eye complications

Completed 4 years of undergrad; 4 years of optometry school
Optometrists are sometimes referred to as "doctors of optometry". This means they have completed a four-year program at an optometry school, but should not be confused with a medical doctorate.


---
What is an optician?
An optician is a technician trained to verify or dispense eye prescriptions.
Ensures glasses are correct and fit comfortably

Dispenses glasses and contacts

Training varies; 23 states require opticians to be licensed